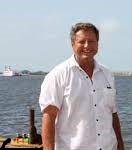 Peninsula Marine Inc., is a family-owned company. Wayne & Eric Mouton, both natives of Bolivar Peninsula, have build a legacy with their extensive knowledge and equipment to handle marine/construction projects. Their expertise in inland and offshore services are a great asset to the industry.
Darby Wayne Mouton, President
Wayne has built Peninsula Marine Inc. from the ground up. Beginning in the early 1990s, Wayne began as a commercial fisherman, working his way into a shipyard and salvage work. After years of networking and expanding, Wayne made his way into the oil & gas industry, building his fleet to over 10 tugs, adding barges and other essential equipment.
" Big businesses start small" - Wayne Mouton

Eric Mouton, Vice President
Eric is a native to Bolivar, TX. Growing up near the water, Eric joined his Dad in his childhood years in the marine industry. Eric has the knowledge and experience which contributes to Peninsula Marine Inc.'s success. Eric has over 15 years experience as a Captain, NCCO Certification, experienced welder, as well as business management experience in the Marine Industry.
Join Our Team!
We offer competitive pay and benefits for our deckhands, captains as well as welders. To join our team, e-mail us at employment@peninsulamarine.com
We have worked for a wide variety of customers including Buckeye, Dunham Price, Bo-Mac Contractors, Callan Marine, Faucheux Services, Encore, Tolunay-Wong, Orion, Patriot Marine, and several more.
Customers